Travel agency Budapest, Hungary: Budapest visit, Budapest dinner cruise, Budapest sightseeing, Budapest river cruise, Hungary private tours, Hungary private excursions
Full day Vienna excursion (12 hours)
We leave Budapest early in the morning and arrive in the Austrian capital in about a 2,5 hours drive.
In Vienna we drive along the famous boulevard (Ringstraße) with many remarkable sights: State Opera, Parliament, City Hall, Burgtheater, University campus and Votivchurch. After a short walk we visit the Hofburg Palace from where the Habsburgs ruled during 640 years. Today the Austrian president's office, the Spanish Riding School, the National Library and the former Imperial Apartments can be found there.
We walk down the pedestrian street (Kärtnerstraße) full of elegant shops to visit one of the symbols of Vienna the Stefansdom (St Stephen's Cathedral). We enter into the largest, gothic church of Austria dating back to the 14th century.
The former summer residence of the Habsburgs called Schönbrunn will be reached in a short drive. The majestic baroque palace was constructed in the 17th century and is surrounded by French garden.
You have the chance to visit the magnificent rooms in rococo style from the time of Maria Theresa as well as the salons of Emperor Franz Joseph and Empress Elisabeth (Sisi) from the 19th century.
We also visit the colourful, post-modern Hundertwasser House constructed in 1985 by the world-famous Austrian painter-architect Friedrich Hundertwasser.
The above program includes: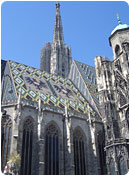 private guide service
private transportation
orientation tour in Vienna
Important note:
Please consider Passport and Visa regulations!
Optional program:
three-course lunch in a local restaurant (20 Euro/person)

» Tour Reservation