Travel agency Budapest, Hungary: Hungary private tours, Hungary private excursions, Budapest visit, Budapest travel agency, Budapest dinner cruise, Budapest river cruise, Budapest guided tour, Budapest city tour
Full Day Puszta Excursion Tour (8 hours)
The Puszta (the Great Plain) stretches from the Danube to the country's eastern border. It is a characteristic landscape with its endless horizon of dry steppe, where ancient Hungarian flora and fauna live national parks in harmony with the local people, their everyday life and traditions.
The excursion starts in Kecskemet in capital of the Puszta. We walk around the main square to see imposing art nouveau buildings dating back to the 19th century: the colourfully decorated City Hall, richly ornamented Cifra Palace and the Old Church from 18th century, the former Synagogue, the world-wide known Zoltan Kodaly Music Institute, the neo-Baroque Theatre and the oldest historical monument, the Franciscan's Church from the 14th century.
We continue the excursion to a typical equestrian park in the middle of the Great Plain. You will be welcomed according to Hungarian traditions with local fruit brandy "pálinka" and a special salty cake called "pogácsa". You also have the possibility to take a carriage ride through the endless Puszta. The farm has typical animals of this region like grey cattle, "racka" sheep, half-bred horses, "mangalica" pig etc.
You also can admire the beauty and the outstanding skills of the horses in an equestrian show represented by horsemen in traditional costume. The program includes four-hand driving, pony carriage driving, wagon drawn by oxen and some other attractions. You even have the opportunity to ride a horse without saddle.
After the program a Hungarian three-course lunch (including wine and coffee) will be served in the "csárda" restaurant and you can enjoy the live music of gypsy band.
The above program includes: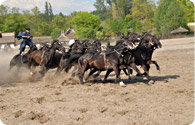 private guide service
private transportation
welcome drink and "pogácsa"
three-course lunch with wine and coffee
horse show
carriage ride
» Tour Reservation