Travel agency Budapest, Hungary: Hungary private tours, Hungary private excursions, Budapest visit, Budapest travel agency, Budapest dinner cruise, Budapest river cruise, Budapest guided tour, Budapest city tour
Half Day Horse Show Tour (4 hours)
In about one hour drive we arrive in the equestrian park of the famous Lázár Brothers (word champions in carriage driving). It is located outside of Budapest in the picturesque valley called Domonyvölgy close to the former summer residence of Queen Elisabeth in Gödöllő.
You will be welcomed according to Hungarian traditions with a special salty cake called "pogácsa" and fruit brandy, "pálinka". We visit the stables where world champion horses are held, the small museum of the Lázár brothers and the mini-zoo with ancient Hungarian animals like "racka" sheep, donkey, puli dogs, "mangalica" pig etc. You also have the possibility to take a carriage ride in the surroundings.
You can admire the beauty and the outstanding skills of the horses during the equestrian show represented by horsemen in traditional costume. The program includes four-hand driving, pony carriage, wagon drawn by Hungarian grey cattle and Koch-five etc. You even have the opportunity to ride a horse without saddle.
The above program includes: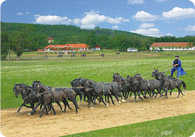 private guide service
private transportation
welcome drink and "pogacsa"
horse show
carriage ride
Important note:
Between 1st April and 31st October the program is guaranteed on Tuesday, Wednesday, Friday and Saturday. For availability for other days please contact the reception!
Optional program:
Typical Hungarian three-course lunch (including wine and coffee) is served in the "csárda" restaurant with gypsy music and visit of the former summer residence of Queen Elisabeth in Gödöllő.
» Tour Reservation