Travel agency Budapest, Hungary: Budapest visit, Budapest dinner cruise, Budapest sightseeing, Budapest river cruise, Hungary private tours, Hungary private excursions
Half Day Gödöllő Excursion Tour (4 hours)
Gödöllő is located 30 km to the east of Budapest and its most important sight is the Grassalkovich Mansion, better known as the former summer residence of Queen Elisabeth. (Sisi)
The palace of Gödöllő with its 17000 sq metres is the largest baroque palace of Hungary. It was constructed by Antal Grassalkovich in the 18th century and finally given to Franz Joseph and Queen Elisabeth as a present from the Hungarian state for they coronation in 1867. During World War II the building complex was plundered and most of the original furnishing taken away by German and Soviet forces. In the exhibition rooms beside a few original furniture of Gödöllő Palace you can find many others used by the Royal Couple elsewhere. After the long still unfinished reconstruction period it was opened in 1996 for the public.
During the visit you can get familiar with the noble dynasty of Grassalkovich and the everyday life of the royal couple, Franz Joseph and Queen Elisabeth. In the Elisabeth wing there is a commemorative exhibition opened for the 100th anniversary of her death in 1998. We walk in the English style park of 28 ha surrounding the building as well.
After the visit of the palace we invite you for a cup of coffee and cake in the pastry shop. You also can look into the souvenir shop and buy the famous Sisi cream liqueur.
The above program includes: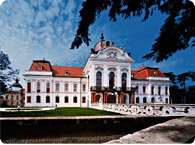 private guide service
private transportation
entrance fee and guiding in the palace
one cup of coffee and cake in the pastry shop
Important note:
Not available on Mondays!
Optional program:
visit of the equestrian park of Lázár Brothers (world champions in carriage driving) where you can enjoy a horse show, carriage ride and a typical Hungarian three-course lunch with gypsy music
» Tour Reservation