Travel agency Budapest, Hungary: Budapest visit, Budapest dinner cruise, Budapest sightseeing, Budapest river cruise, Hungary private tours, Hungary private excursions
Full Day Eger Excursion Tour (9 hours)
Eger is a lovely baroque city located between the wooded Bükk and Mátra hills 130 km eastward from Budapest. The history of the town goes back to the time of our first king St Stephen, to the 11th century. He was who made the town an Episcopal see and it has been one of the major centres of the Hungarian Catholic Church ever since. Eger is the third richest city in historic monuments of Hungary.
We visit during the walking tour the second largest Cathedral in Hungary built in Classical style, the famous library of the Teacher's Training College (Lyceum) that is considered one of the masterpieces of Hungarian Art of 18th century. In the 53 m high observatory tower of the building the whole panorama of Eger can be seen on a table with help of a Periscope.
We walk to the famous castle of Eger that played a significant role in the Hungarian history in the 16th century, when its defenders lead by Captain Dobo had a great victory over the huge Turkish forces in a heroic struggle. The tour in the castle includes exhibitions of the former Gothic Bishop's Palace, visit of the tomb of Captain Dobo and we enjoy the lovely panorama of the whole city from the medieval castle walls.
We keep walking afterwards to the most northern Turkish minaret in Europe from the 17th century and to the main Dobo Square in the pedestrian area.
The three-course lunch and wine tasting are served in a wine cellar of the Valley of the Beautiful Lady that belongs to major wine-growing regions in Hungary and home of the well-known red wine Egri Bikaver (Bull's Blood), too.
After lunch you can enjoy some free time in the pedestrian area before return to Budapest.
The above program includes: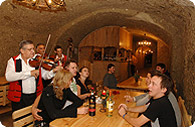 private guide service
private transportation
entrance fee to the Lyceum (library and observatory tower)
entrance fee to the Castle
three-course lunch with wine tasting (5 wines)
Important note:
The library and the observatory tower of the Lyceum are closed on Mondays! They can be visited only on weekends between 1st of October and 31st of March!
» Tour Reservation