Travel agency Budapest, Hungary: Hungary private tours, Hungary private excursions, Budapest visit, Budapest travel agency, Budapest dinner cruise, Budapest river cruise, Budapest guided tour, Budapest city tour
Half Day Danube Bend Excursion Tour (5 hours)
The Danube Bend is the most impressive part of the river in Hungary. In that area the Danube sharply alters its eastward course and starts flowing southward.
The first stop of our tour is the small riverside village called Visegrad, where we visit the ruins of the medieval fortress from the 13th century on the hilltop. We walk through several reconstructed rooms with different expositions and enjoy the most beautiful view of the Danube Bend from the walls of the fortification.
After a short drive we arrive in Szentendre, which is a small baroque city with Mediterranean atmosphere. Because of its picturesque location, narrow, winding streets, small romantic squares, Orthodox churches, souvenir shops and cafés Szentendre is a popular destination. Furthermore it is a centre of Hungarian artists with numerous museums and art collections.
In Szentendre we walk to the main square in the centre, where most of the sights are located: the City Hall, the Greek Church and the oldest catholic church on the hilltop offering a beautiful view of the Danube and the surroundings. After the walking tour we visit the unique Marzipan Museum where handmade marzipan figures and sculptures are exhibited. We invite you for a coffee and a cake in the pastry shop.
Afterwards you can enjoy a longer free time to visit some other museums or do shopping along the main street. As an alternative we can visit the jewellery factory and shop called Caprice, where you have chance to see diamonds, jewels and their fine producing processes.
The above program includes: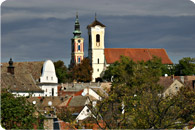 private guide service
private transportation
entrance fee to the fortress of Visegrád and to the Marzipan Museum
one cup of coffee and cake in the pastry shop in Szentendre
Optional program:
Return by boat to Budapest in the period between 10th April and 24th October. (except low water level) In case of return by boat the excursion ends at the pier of Budapest in the city centre. Ticket 1400 HUF/person.
Wine tasting in the Wine Museum and Cellar in Szentendre,
1800 HUF/person
» Tour Reservation