Travel agency Budapest, Hungary: Hungary private tours, Hungary private excursions, Budapest visit, Budapest travel agency, Budapest dinner cruise, Budapest river cruise, Budapest guided tour, Budapest city tour
Full Day Balaton Excursion Tour (9 hours)
Balaton, the "Hungarian sea", is one of the largest lakes in Europe with its almost 600 sq. km surface. It is located in the middle of Western part of the country 100 km southwest from Budapest and stretches 77 km long.
The Balaton excursion starts in Balatonfüred on the north side, which is the oldest spa-resort by the lake. In the 19th century many prominent personages, writers, actors, actresses and singers built their own holiday homes and villas in the city like the summer residence of actress Lujza Blaha and of writer Mór Jókai. Beside these holiday homes it has a large State Heart Sanatorium, too. We walk along the Tagore promenade on the lakeshore and taste the fresh mineral water of Kossuth Well.
We continue the excursion on the northern shore and stop in the city, called Tihany, which is located in a National Park of the Peninsula Tihany. We visit the famous baroque Benedictine Abbey Church on the hilltop founded by King Andrew I in the 11th century and its Romanesque crypt with the tomb of the church founder. After the walk along the Echo Hill to see the spectacular panorama you have some free time for shopping.
We have a typical Hungarian three-course lunch in a local restaurant.
The excursion will be combined with a boat trip on the lake (depending on the season) or with the most famous Porcelain Manufactory of Hungary called Herend. After the visit of the Mini-Manufactory and Museum we invite you for a coffee in the pastry shop.
The above program includes: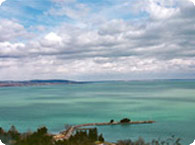 private guide service
private transportation
entrance fee to the Abbey Church of Tihany
three-course lunch in local restaurant
boat trip on the lake or visit of the Herend Manufactory with coffee
Important note:
No tour available in the Porcelain Manufactory in Herend on Sundays between 1st November and 31st March!
» Tour Reservation