Travel agency Budapest, Hungary: Hungary private tours, Hungary private excursions, Budapest visit, Budapest travel agency, Budapest dinner cruise, Budapest river cruise, Budapest guided tour, Budapest city tour
Budapest Cultural City Tour (4 hours)
During the cultural city tour we visit the Parliament building, the Hungarian State Opera House and the St Stephen's Cathedral.
The magnificent neo-Gothic building of the Hungarian Parliament dating back to the beginning of the 20th century stands along the riverside. It is one of the largest parliament buildings in the world and beside this is the most expensive and beautiful public building ever built in Hungary. During the guided tour you can admire the richly decorated main staircase, the Dom Hall, where the Hungarian Holy Crown and the Coronation Jewels are displayed, the former deputies' lounge and the session room of the Hungarian Parliament.
The tour continues to the largest church of Budapest to the St Stephen's Cathedral constructed in the second half of the 19th century in eclectic style and has been recently renovated in its old beauty. During the guiding we make you familiar with legends of Hungarian saints and you have a chance to see the most important religious relic of the Hungarians, the Holy Right Hand of St Stephen. (On special occasions the chapel can not be visited!)
Finally we visit the impressive neo-Renaissance Hungarian State Opera House from the end of the 19th century. During the guided tour we can have a look of the exclusively decorated interior including the auditorium with the second largest stage in Europe, the main staircase, the richly ornamented buffet and the red salon.
The above program includes: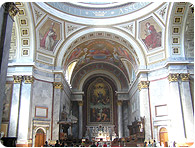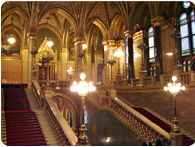 private guide service
private transportation
entrance fees for citizens of EU member countries
Important note:
Opera tours are available only in the afternoon!
On special occasions the Parliament building can not be visited!
This program can be part of the full day city tour.
Non EU citizens pay plus 2.100 Parliament entrance
Optional program:
Panorama from the terrace around the dome of the St Stephen's Cathedraln
» Tour Reservation